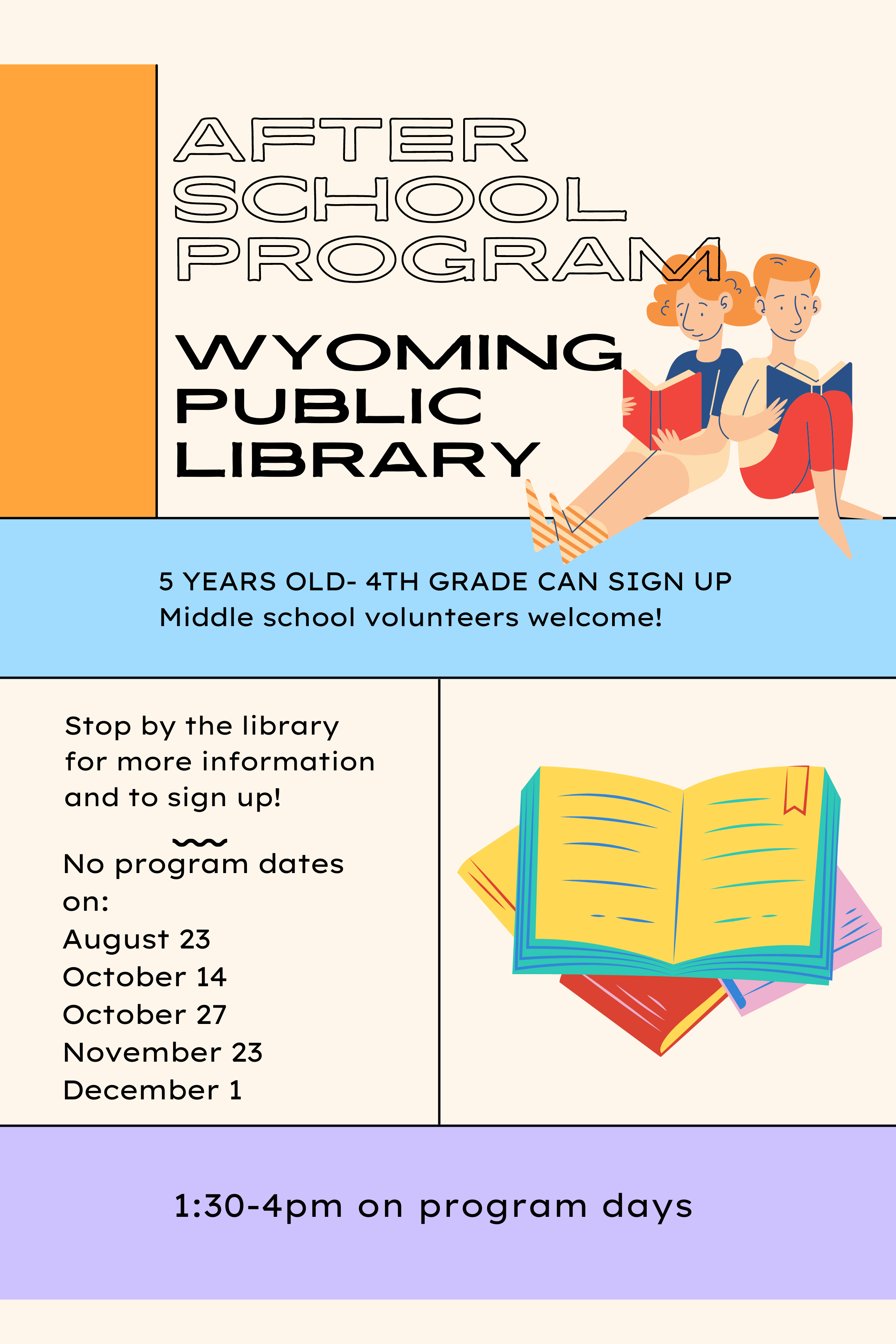 Sign up for the Early Dismissal Program starts Friday, August 6th at 2pm. Space for the program this year is limited to the first 30 students to register. As in the past library staff will walk students from the Wyoming bus stop to the library.
Students will have 20-40 minutes of free time in the library followed by a movie w/popcorn and juice served, then activities that they can rotate through such as computers, ipads, craft, play areas, legos, games, video games and another movie.
We ask that each family donate one item to the program per child in August before the program starts and again after Christmas break.
Donation items needed include: snacks, craft supplies, bottled water, paper towels, Clorox wipes and juice mix. Please talk to staff before purchasing anything for the program so we are certain to get enough of everything needed for the program.
Families can also make a monetary donation for the purchase of other program supplies the library would like to have to enrich the program. Donations to the library are tax deductible. A list of items needed and wanted for the program can be found on the library's Amazon Wish List at http://www.amazon.com/gp/registry/wishlist/ref=cm_wl_search_1?ie=UTF8&cid=A3A9FLCY4TAP3E There is also a link to the wish list on the library's website www.wyoming.lib.ia.us
Items for the program must be brought in prior to the first early dismissal, if you are ordering something from the wish list please let us know and we will mark your donation on the registration sheet. Failure to do this will result in loss of your childs spot to the next name on the waiting list.
If you know of anyone interested in volunteering at a program or for a few hours have them contact the library, we always need more hands. We would consider registering more children if we can find committed volunteers to help.
Please feel free to contact Lucy Johnson at the library with any questions you may have 563-488-3975 or mylibrary@wyoming.lib.ia.us you can also find more information about the library at www.wyoming.lib.ia.us . Library hours are: Tuesday 2-6, Wednesday 11-5, Thursday 2-6, Friday 2-5 and Saturday 9-12